Paul Friedman L.Ac., L.M.T.
Paul is a Board Certified and New York State licensed Acupuncturist and Massage Therapist. He earned his B.S. and M.S. in Acupuncture from the New York College of Health Professions, formerly the New York College for Holistic Health, Education and Research in Syosset, NY. He also earned his A.O.S. degree in Massage Therapy there where he graduated at the top of his class in both the Acupuncture and the Massage Therapy programs. He also holds an A.A.S. degree in Management and Marketing from Queensborough Community College. He is classically trained in TCM and Japanese Acupuncture as well as Cupping, Gua Sha, Moxabustion and Electro-Acupuncture. He has been in private practice practicing bodywork for the past 18 years.
Paul believes that while modern Western medicine is at the cutting edge of many new advancements in the medical field, many of the ailments currently seen may be very effectively and safely treated with Acupuncture and or Massage Therapy, proper lifestyle and dietary changes, with no negative side effects. Paul's approach is one of combining both Eastern and Western medicine and philosophies to maximize the benefits for each patient, ultimately to send them out of the office in a better state then when they came in. He specializes in treating chronic pain syndromes, musculoskeletal problems and stress. He is also highly skilled in Trigger Point Therapy as well as treating infertility problems, arthritis, neck and back pain, digestive and respiratory issues.
Paul is a compassionate and caring individual who listens to his patients and devotes his attention to that one patient for the entire session. He does not move between rooms or treat multiple patients at once and is committed to helping to improve the lives of each and every patient he sees.
Click here to learn more about Acupuncture
Click here to view insurances accepted by Paul Friedman L.Ac., L.M.T.
Kathy Preziosa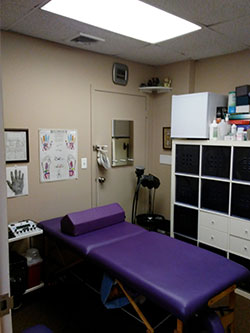 Kathy is a graduate of New York College of Health Profession and performs a variety of massage techniques that include Deep Tissue, Swedish, Medical, TuiNa, sports massage and Amma.
Whether you require soft tissue rehabilitation of a new or old injury or just want to relax and unwind tight and knotted muscles, Kathy can provide just that. Massage is available Monday through Saturday (hours vary).
For more information about Kathy Preziosa, click here to visit her website.
North Shore Cardiac Imaging, P.C.
North Shore Cardiac Imaging offers the latest in diagnostic testing procedures. These tests help patients to understand the complexity of their condition and allows their cardiologists to provide patients with the best quality care. We are pleased to announce that they have established a mobile service for our patients.
Diagnostic services they provide include the following:
Carotid duplex
Abdominal aortic ultrasound
Arterial doppler
Venous doppler
Pulse volume recording (PVR)
For more information about North Shore Cardiac Imaging and the services they provide, please click here to visit their website.